Memes x Culture x Politics |001| Moma.PS5
The following consists of a text written based on an insightful conversation I had with Aloiso Wilmoth. 
If you're familiar with certain parts of the art and philosophy adjacent memepage scenes on Instagram you've probably come across the self-proclaimed "techno-dadaist", internet persona, or niche-internet-micro-celebrity par excellence Aloiso Wilmoth, aka He Valencia, aka Moma.PS5. For those who don't know, Moma—as he is referred to by his admirers and detractors alike—is techno DJ from the American Midwest, popular online for his knowledge of electronic music history as well as his poignant and humorous cultural and political commentary, which he shares with the world at large via his Instagram meme page @moma.ps5. 
I had the chance to chat with him about his life as a DJ and his career as an internet personality cum cultural critic in between a busy schedule of gigs in Germany, Portugal, and Australia. More importantly, however, we chatted about the changing landscape of American political culture. I found that talking to and writing about Moma provided an anecdotal ground of personal experience upon which we can recall a recent history of American political culture. 
"I'm a cultural critic, dj/producer/comedian. My main practice, however, is the art form of techno." Moma said to me upon introduction. He explained to me that he has been politically-engaged  since he was relatively young: "I've always been involved politically, since I was a teenager. I grew up in the black church."  Recalling his political maturation, he recounted his journey from mutual aid, and the local community engagement of the Black Church, to the antifascist politics of the hardcore scene as a kid. It was his own interest in the political history of dance music that definitively radicalized him: "Pretty quickly I found out that the origins of dance music lay in the pretty radical black communities…"
In fact, the milquetoast liberal politics of the present-day dance music scene frustrated Moma, and pushed him towards posting more radical content: "I remember getting super frustrated with the politics within dance music. I felt like a lot of the things I was saying weren't coming across to people. A lot of people in dance music were stuck in this basic democratic convention liberal mindset. And I was like 'yall are not getting what's going on'. Especially within the context of dance music history."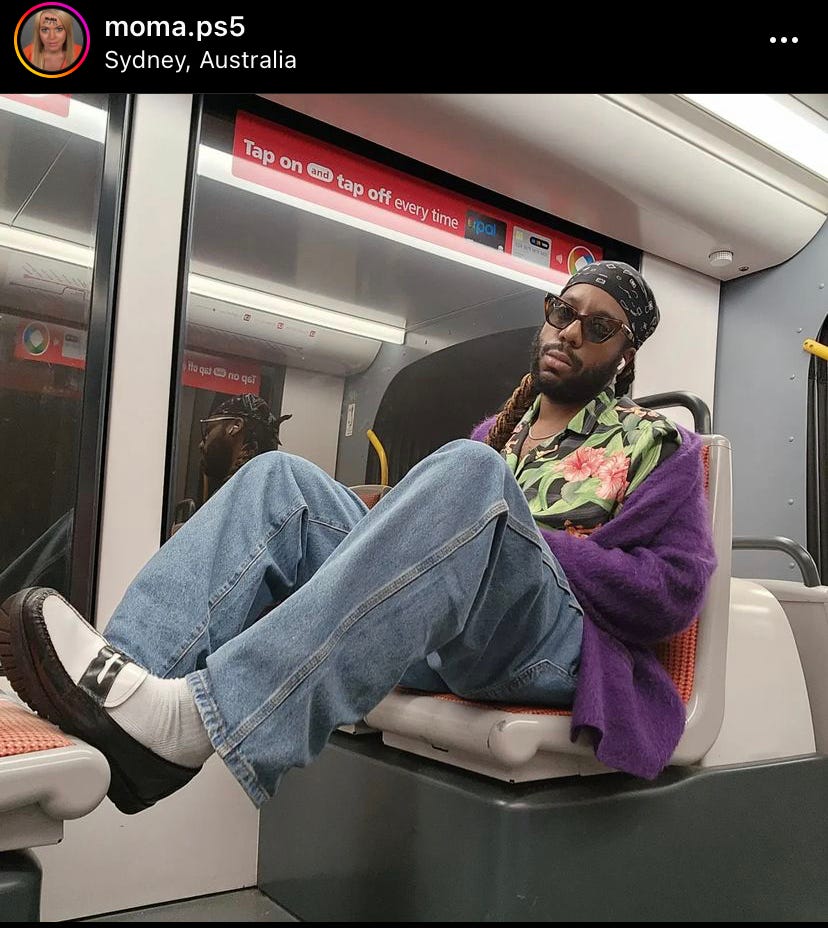 Like many who make a name for themselves online, it's difficult to pinpoint the decisive element contributing to surges in popularity. A combination of clever branding, and algorithmic luck, no doubt. A catchy social media handle probably doesn't hurt either. In Moma.PS5's case, all those things may be true, but the truth lies beyond––at the particularly fraught intersection of cultural and political circumstances which gripped the United States during the waning months of the Trump administration, and in Moma's own insights which filled the void left after the collapse of the Bernie Sander's movement in 2020.
It's no coincidence that Moma's first rise to prominence on Instagram came during the 2016 presidential elections. That election cycle saw online discourse, in the form of meme-sharing, podcasting, and social media-posting  play a decisive political-discursive role, as Angela Nagle has exposed in her book on the matter, Kill All Normies. The online Right even claimed it was their "meme magic" that had defeated the Clinton campaign. A presumptuous claim, no doubt, given that without the oxygen provided by liberal hysteria itself, this strategy would have been null. Let's not forget that the ACLU at the behest of the Clinton campaign, classified Pepe the Frog as an official hate symbol.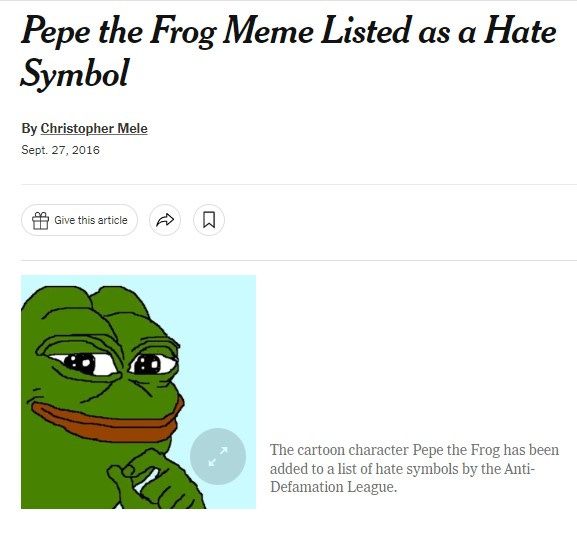 Much attention has been paid to these reactionary memelords that self-proclaim to have won the election for Trump, the frontline soldiers of The Great Meme War as it has been mythologized online. Less attention has been given to their Left-wing equivalents––those who spent more of their time and energy trolling the Hillary Campaign than Trump's, a fact the mainstream liberal media persistently whined about at the time. This text hopes to shed some light on at least one of these cultural warriors of the hard anti-liberal Left.
According to Moma, his page's early success came from posting pro-Bernie memes, "One day I unlocked it [instagram account] and started posting kind of like Bernie Bro or Socialist memes. I was really into Bernie Sanders the first time around. I was super hype. I was posting cool socialist memes, and people started resharing them…" As the content became more radical, the audience responded and grew organically. "I was noticing really insane shifts in the cultural landscape when it came to politics." Moma said as he explained the trajectory of his internet career and his personal journey as cultural commentator.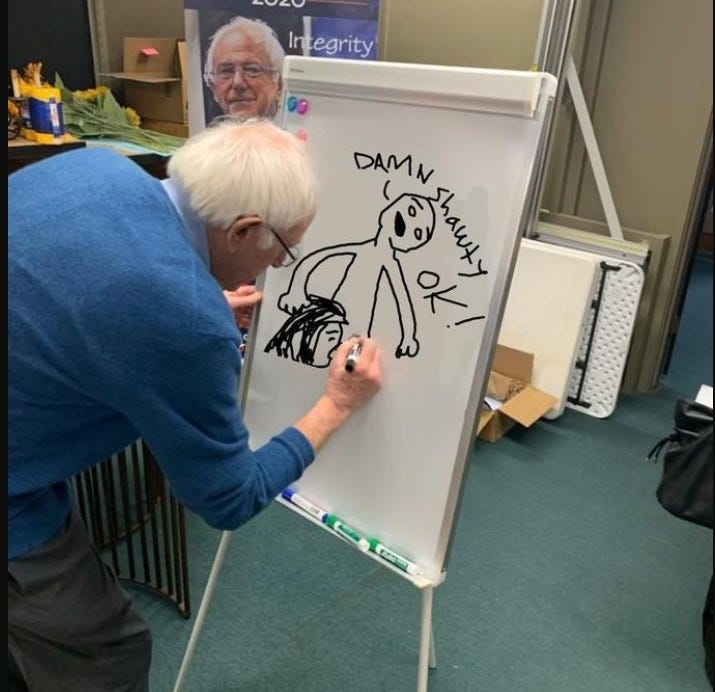 The Trump presidency saw elements of American society grow ever more extreme, punctuated by events early on like the Charlottesville white nationalist rallies.  It saw the Culture War, which had only grown in intensity since the 2016 elections, come to a deafening crescendo, culminating for the Left in the BLM uprisings during the summer months of that 2020, and for the Right, in the January 6th Capitol insurrection of 2021. All the while in the background, the systematic failure of the US healthcare system to adequately respond to the Covid-19 pandemic made evident the urgent need for robust social democracy.
It's worth remembering that the covid lockdowns put an end to a series of popular uprisings that had been raging across the world during 2019. From Santiago to Beirut to Bangkok, regular people around the world had seemingly had enough of the crumbs they were so often told to be satisfied with. But at the heart of the world economy, the United States had been spared of any profound civil strife. That was until the murder of George Floyd at the hands of Derek Chauvin. Whatever the US ruling class had evaded earlier, was paid in full throughout the summer months of 2020. Like the virus, the uprisings spread like wildfire with Minneapolis at its epicenter.
The Summer Uprisings of 2020 proved to be a turning point for Moma. Not only in terms of audience growth, it also marked a definitive break between him and other accounts known for critiquing woke culture and identity politics. "During the uprisings and the Second Bernie campaign, that's when the page really blew up]" Moma said to me as we discussed the uprisings, "People were fed up with binary thinking, and I was trying to explain to people, representation is important, but it's a surface level thing…"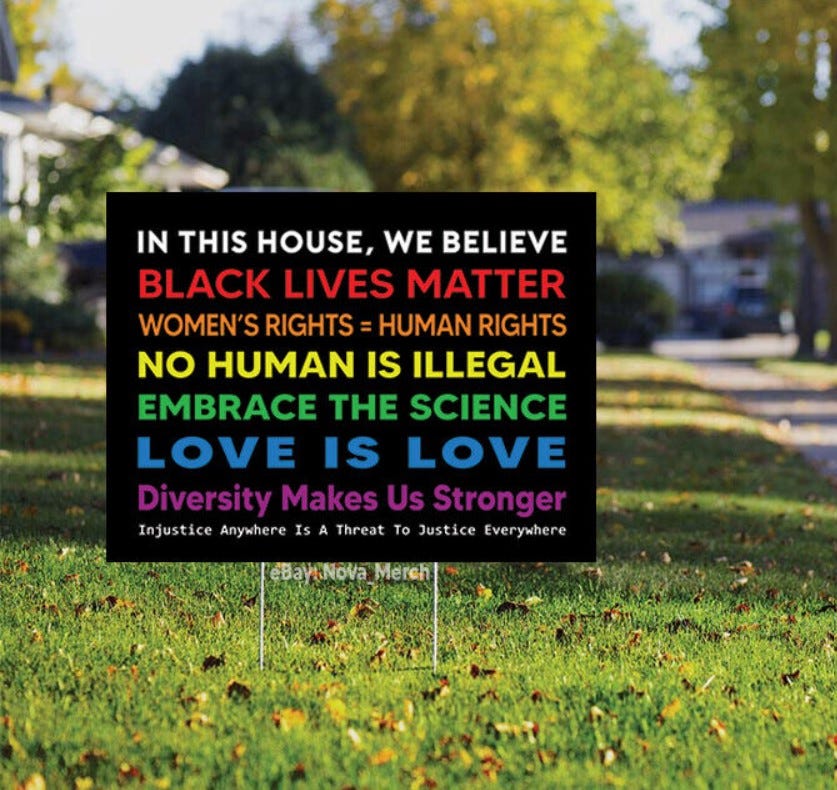 At the time,  it became apparent that there was a contradiction between the obvious radicality of the uprisings and the lip service paid to the protests by the liberal establishment. "I was trying to tell people, you got to support the uprisings, but be aware of how BLM could be appropriated by corporations that really don't give a fuck about Black people. They're just doing it to stay relevant. It was a good time to cut through all of that while injecting some nuanced class politics."
Moma was one of the few voices providing critique of the political establishment's attempts to co-opt the uprising's energy and channel it into the upcoming presidential elections. This invariably included a necessary critique of mainstream identity politics in favor of a materialist analysis of the United States' political economy as a capitalist settler-colonial state and an imperialist power. It was baffling how such radical street militancy could be rapidly co-opted by the political establishment and the industrial media apparatus with the intention of using the justified rage for cynical political ends.
"When I was making pretty sharp critiques of neoliberalism and identity politics, I built a really big audience from that. I noticed though, that the problem when you do that, is you get approached from a lot of different camps. People will use those rightfully made critiques and manipulate them to fit their own ideological angle. Obviously woke culture sucks. It's bad. But you got the right wing, they fully understand the critique, and use it to reinforce their position. I realized over time, when the uprisings happened, the post-woke crowd wasn't supporting the uprisings. I had to break-off ideologically."
Most recently, Moma's steadfast political positions have only vindicated him. Indeed, once upon a time he might have shared a platform with the gaggle of anti-woke contrarians that we all know too well, but since then, Moma has resisted the rightward and reactionary drift recently undertaken by the downtown Manhattan tastemaker scene. To their credit, the downtown edgelords supposedly financed by Thielbucks, have called out the lame identitarianism of today's liberal cultural hegemony as a senseless moralist piety that does absolutely nothing for artistic expression and development. "Obviously woke culture sucks. It's bad." says Moma, but that's no excuse for reactionary politics: "the right wing, they fully understand the critique, and use it to reinforce their position. I realized over time, when the uprisings happened, the post-woke crowd wasn't supporting the uprisings. I had to break-off ideologically."
"These contrarian types are so addicted to going against the grain that it made them drift further right, over the course of five or six months I watched them go over to the far right. I even remember at certain points I was getting approached by right wing think tanks. It's real, people from those camps will approach you, and paint you as heterodox."
Beyond whatever truth these claims may have, it does nothing to couch the ultimately conservative and reactionary positions of an urban petit-bourgeoisie which harbors perhaps a little too much regard for its own supposed avant-gardism. At a time when a widespread discontent with the identity-politics of mainstream liberals has pushed people away from the progressive politics,  voices like Moma's are all the more important. 
Indeed the best antidote to this reactionary contrarianism is without a doubt a proper sense of humor which doesn't shy away from poking fun at the sacred cows held dear by mainstream liberalism. In fact, the Left must–if it wishes to preserve any cultural relevance–repudiate the so-called woke moralism parroted by hegemonic culture, or risk losing everyone sympathetic to its causes. From a simple aesthetic standpoint, if one is forced to choose between liberal whining, and the pathos of Trump's crude jokes–the choice seems obvious to those of us who don't feel the need to be morally superior to the rest of society.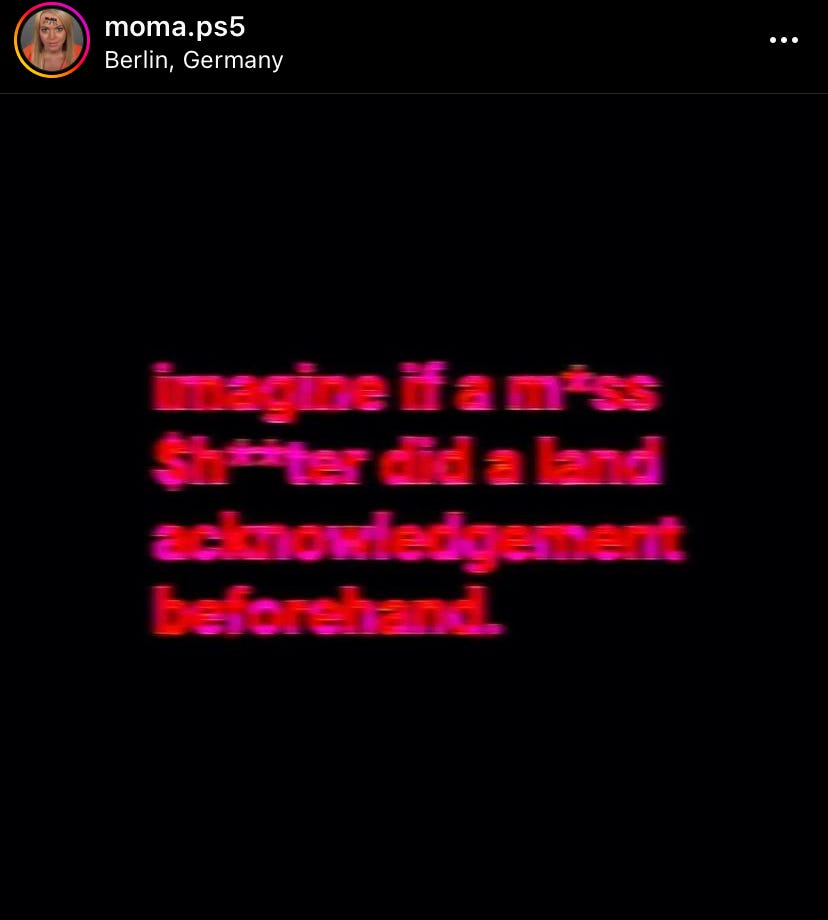 No less important than his political positions, there's also the question of Moma's personal character and outlook on life, a far cry from the inceldom rampant in online communities on both the left and the right. It reminded me of a tweet I recently saw which said something along the lines of "communists shouldn't underestimate the raw power of being normal".There is a care-free confidence without pretension which becomes quickly apparent when speaking to him; a breath of fresh air amidst our definitely anal-retentive cultural climate so gripped by the anxiety of saying "the wrong thing". 
Indeed, his iconic red text on black background "opinion pieces", are rife with hilarious and outrageous statements that would undoubtedly ruffle blue haired and blue-checked feathers. This lighthearted disregard for the social mores of contemporary political correctness, exists in sharp contrast to the self righteousness of the liberal and conservative mainstream. His advice to his followers is to "go touch grass"—ridiculing the levels of social dysfunction and alienation of our contemporary virtual hellscapes. Instead of quoting Stalin from your basement, Moma urges the youth to go out and experience the world, posting on his story  "if I can do it, so can you". In our era of watery-eyed and squeaky-voiced Jordan Petersons and Ben Shapiros, that advice coming from someone on the Left is more valuable than one might think.
We can't leave trolling the libs to the Right, there is too much at stake.
You can follow Aloiso on Instagram @moma.ps5 and @he.valencia. You can follow me on Instagram @pl0xi_the_arsonist.